The Consumer Protection Act is deemed to have come into force in St. Lucia on 1st January 2022. This comprehensive law provides for the "promotion and protection of consumer rights in relation to the supply of goods and the provision of services".
Although the legislation's objective is the protection of the consumer, it is underpinned by principles of fairness and reasonableness and may be said to strike a balance between the interests of the buyer/hirer of goods or services (the consumer) and a seller of goods/services or service provider (the supplier).
The Act, among other things, requires consumer agreements:
to be expressed in plain language, which is readily understood, and
to be fair.
A term in a consumer agreement which denies the consumer the rights and protections provided by the Act is unenforceable. A supplier cannot, therefore, get around the Act.
The Act introduces laws on the cancellation of consumer agreements, cancellation of bookings/reservations, warranties, defective goods, labelling, consumer safety, recall of goods, product liability and distance selling. A notable feature of the consumer safety provisions is the establishment of a regional alert system to provide notification with respect to inherently dangerous goods circulating in listed member states, essentially, CARICOM states.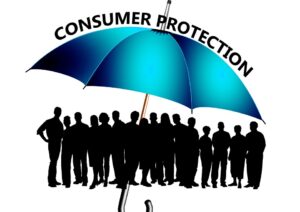 The Act's dispute resolution mechanism is a critical component in furthering the interests of the consumer. It preserves a consumer's right of access to the court while providing an alternative and possibly cheaper and more accessible means of redress. A disgruntled consumer or the National Consumer Association on his/her behalf may make a complaint to the Consumer Affairs Department, which is charged with investigating the complaint and making a report for submission to the Council. On receipt of the report, the Council may seek an amicable route to settle the dispute (such as, mediation or conciliation). If the dispute is resolved by consent, the parties are bound by the agreement which must then be referred by the Council to the Consumer Protection Tribunal for ratification and registration. If the dispute is unresolved, the parties may request that the Council make a referral to the Tribunal, which is empowered to hold a hearing and settle the dispute by making a final determination. The Tribunal may impose fixed penalties and/or make orders requiring the supplier to do or refrain from doing certain acts.
In summary therefore, in addition to the broad rights and protections afforded, the Act provides a robust regime for the resolution of consumer disputes in St. Lucia.
FLOISSAC, DUBOULAY & THOMAS provides this information for educational purposes only. It should not be construed or relied on as legal advice or to create a lawyer-client relationship. This guidance note is not intended to be, and should not be construed as, legal advice for any particular situation and you should not act upon this information without seeking advice from a lawyer. If you have any questions, please feel free to contact us at info@fdt.law.